Serving Bibb, Peach and Crawford Counties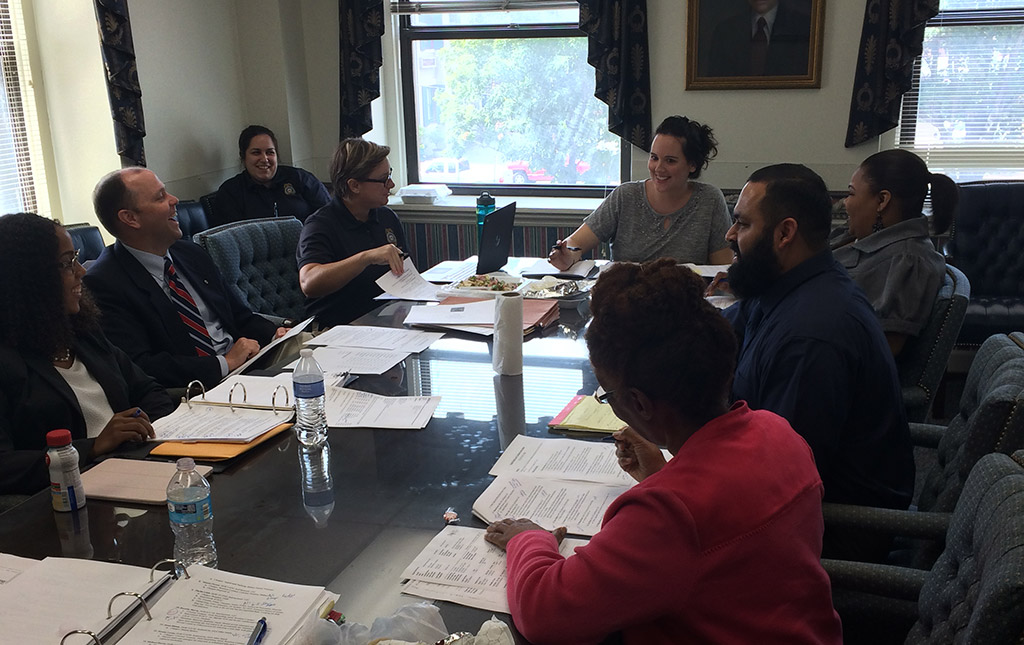 About The Mental Health Court (What It Is):
Bibb County has instituted a voluntary Mental Health Court based on proven national research and program models overseen by the Honorable Judge Verda M. Colvin. The Mental Health Court provides clients with an opportunity to pursue treatment for their mental health needs, while productively addressing associated legal problems.
The Mental Health Court was implemented in January 2009 under the direction of Superior Court Judge Phillip Brown. The court is a partnership between the Judge, District Attorney, Solicitor- General, Probation, Law Enforcement, Treatment Team, Defense Counsel and the community.
This is a mental health treatment program that is typically 12 to 24 months in duration and consists of five phases.
Participants are expected to partake in classes, treatment, self-help activities and any other required activates required by the treatment team to meet individual needs.
Participants are routinely drug tested and provided support to live a lifestyle free of drugs and alcohol.
Who Is Eligible?
The Mental Health Court Program of Bibb County admits those individuals charged with crimes in which mental illness was a substantial contributing factor and whose mental illness can be treated and stabilized. Counties served include Bibb, Crawford and Peach. Potential clients must live in, and/ or have legal charges in these counties.
Referral Process:
Referrals can be sent to Mental Health Court by anyone. Examples of referral sources include:
Public Defender
District Attorney
Family Member
Treatment Facilities
Law Enforcement
Client self-referral
Please contact the Program Coordinator to discuss possible referrals.
Court Goals:
Early identification of clients in jail
Connect clients with mental health medication and individualized treatment to address their unique needs.
Educate on needed Life Skills
Obtain and maintain stable housing and a source of income
Improve the quality of life of the participant (fewer crisis episodes, fewer arrests, fewer family and job related disturbances).
Save lives and restore families!
Program Benefits:
Mental Health Court is designed to not only impact the lives of the participants enrolled in the program, but also to offer cost avoidance to the count and increase safety and provide productive citizens back into the local community! Specific benefits include:
Remove clients from the county jail
Increase Public Safety
Reduce Recidivism
Reduce cost to the county
Rehabilitate citizens of Bibb County!

Local Agency Partnerships:
Day Break, Good Will, Macon Reentry Coalition, Bibb County Health Department, Salvation Army, Macon Rescue Mission, Mikado Baptist Church/ Reformers Unanimous, River Edge Behavioral Health Center, The Step After LLC, Great Expectations, Mercer, CTGC, Family Counseling Center of Central GA, Loaves and Fishes, Mulberry Methodist Outreach Program, Macon Transit Authority, Department of Labor, Angels in Flight, New Life Recovery at Christian Family Center, Anchor Hospital, Lifeline at Coliseum, Crisis Line Safe House, First Choice Primary, Macon Volunteer Clinic, Oglethorpe Dental Center
Contact Information:
Robert Gamboa
Mental Health Court Coordinator
Bibb County Superior Court
601 Mulberry Street, Suite 310
Macon, Georgia 31201
Phone: (478) 621-6323
Fax: (478) 621-6580
Email: This email address is being protected from spambots. You need JavaScript enabled to view it.
Marquita Grayer-Horne
Mental Health Court Case Manager
Bibb County Superior Court
601 Mulberry Street, Suite 310
Macon, Georgia 31201
Phone: (478) 621-6322
Fax: (478) 621-6580
Email: This email address is being protected from spambots. You need JavaScript enabled to view it.